We're releasing SphereEx-DBPlusEngine V1.2.0, upgrading SphereEx-DBPlusEngine-Proxy's enterprise-grade features, and releasing DBPlusEngine-Mate, a metadata governance tool for cloud-native scenarios.
SphereEx-DBPlusEngine V1.2.0 represents a breakthrough for SphereEx-DBPlusEngine in cloud-native scenarios and a significant milestone in SphereEx's enterprise product offering.
DBPlusEngine-Mate empowers SphereEx-DBPlusEngine-Proxy to provide database enhancement services with an improved user experience in cloud-native scenarios.
Thanks to the evolution of the cloud-native technology stack of many Internet enterprises, businesses and data are mainly deployed in proprietary Kubernetes environments.
In this context, SphereEx DBPlusEngine V1.2.0 is launching SphereEx DBPlusEngine-Mate in an effort to improve compatibility and user experience in cloud-native scenarios for enterprises using the SphereEx Business Suite.
The following figure showcases our business solution for the Kubernetes environment. SphereEx empowers users to manage DBPlusEngine in a cloud-native manner with higher availability and lower machine costs, delivering a similar operating experience to cloud-native databases for SREs & DBAs.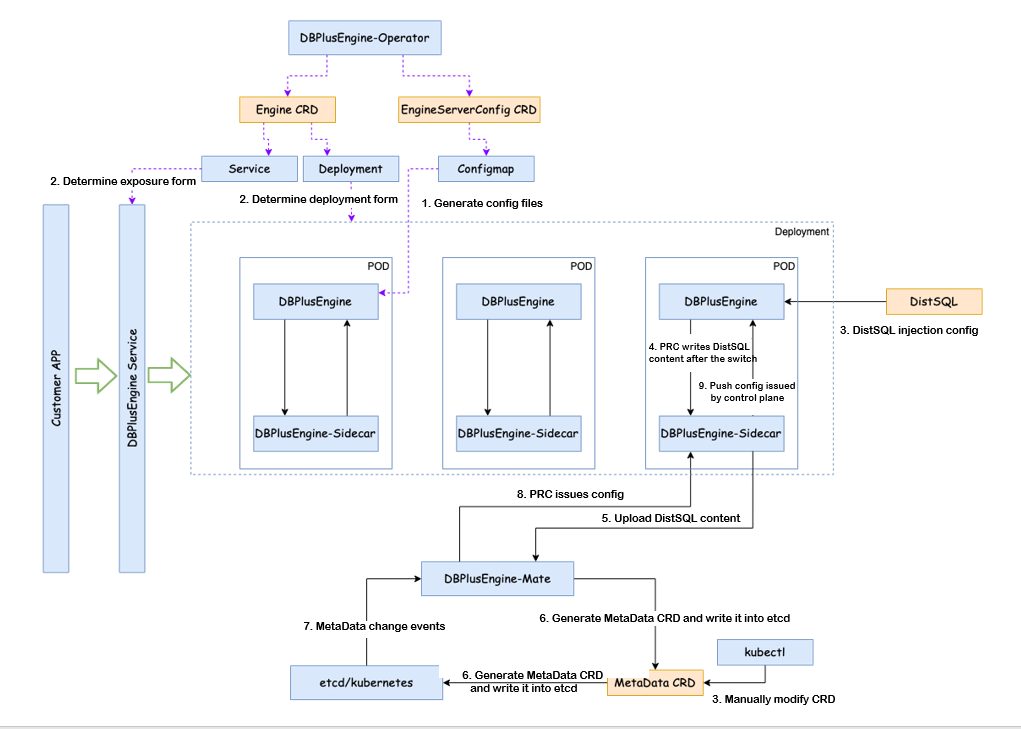 Thanks to DBPlusEngine-Mate and DBPlusEngine-Sidecar, enterprises no longer have to rely on ZooKeeper and can reduce machine costs and DevOps work for SREs. We're also introducing DBPlusEngine-Operator to help enterprises better manage DBPlusEngine.
Features
DBPlusEngine-Mate includes three components: DBPlusEngine-Operator, DBPlusEngine-Mate, and DBPlusEngine-Sidecar.
DBPlusEngine-Operator adopts the typical Operator mode and deploys in the format of CustomResourceDefinition, guaranteeing the operation process.

DBPlusEngine-Mate is the "brain". It'll process the metadata corresponding to enhancement rules configured through DistSQL or Kubectl, and push it to each DBPlusEngine in RPC form.

DBPlusEngine-Sidecar is the "translator" working for each DBPlusEngine Pod. It returns the configurations in PRC form to the upper-level DBPlusEngine as the standard metadata interface.
Advantages
DBPlusEngine-Mate excels in improving SREs user experience when working with internal enterprise platforms, while maintaining the functional integrity of DBPlusEngine and providing DistSQL capability. Together they can build a true cloud-native infrastructure for business applications.
The launch of DBPlusEngine-Mate demonstrates SphereEx DBPlusEngine commitment towards a real cloud-native application rather than an application that only runs on the cloud.
We originally created SphereEx-DBPlusEngine-Proxy by enhancing ShardingSphere-Proxy with enterprise-grade features.
It can provide data sharding, data encryption and other data-enhancement capabilities in addition to standard horizontal data expansion, distributed transaction and distributed governance - making it applicable to a variety of scenarios including heterogeneous languages and cloud-native environments.
Enhanced Features in Version 1.2.0:
Enhanced data consistency check feature: asynchronous execution is optmized.

Enhanced DistSQL features: experience a near-native database experience when managing your cluster with DbPlusEngine thanks to DistSQL.

Enhanced compatibility features: improved compatibility with a wider array of database types and SQL.

Enhanced visualization feature: agent configuration refactoring to optimize user experience.

Enhanced data security features: in addition to AES, more enterprise encryption algorithms are added.

Enhanced data security feature: decryption and data cleaning are added.

Enhanced data security feature: online key changes are supported.

New governance center feature: our self-developed SphereEx-DBPlusEngine-Mate is added to the governance center, allowing you to replace ZooKeeper to manage metadata in the cloud & Kubernetes environments.
In the future, SphereEx-DBPlusEngine will continue to provide comprehensive and distributed cloud-native database enhancement services based on standard cloud-native architecture. Our enterprise product offering will continue to strive to meet users' requirements in terms of multi-cloud, heterogeneity, encryption, and migration.